Omokri Reveals His Counsel To People Who Complain That God Is Silent With Them.
Reno Omokri, a special assistant to Goodluck Ebele Jonathan, the former President of Nigeria, has made a disclosure on his official Twitter handle about his advice to individuals who say that God has been silent with them in their walk or relationship with him. Omokri is offering this advice to those who believe that God has abandoned them in their walk with him.
Over the years of his ministry, which extends well over a decade, Omokri has made significant contributions to the discussion surrounding the question of why God seems to be silent with regard to some individuals or groups. "In over a decade of ministry, I have counseled many people who complain that God is silent with them," reads the statement made by the author, who, at one point, held the record for the most number of copies of a book sold in a single year. And in my observations, I've found that the majority of the time, God is silent with people while they have their Bibles closed. Scripture can be thought of as God speaking to his people. This is the reason why it is referred to as the Word of God. It is from a person's mouth that words emerge.
The televangelist proceeded, stating that "If you want to hear from your friend, all you have to do is pick up the phone and call them." In the same way, if you want to hear from God, you should pick up some Scripture so that you might hear directly from His Mouth. In point of fact, it's possible that He has already been speaking to you, but since you don't read the Bible, you haven't been able to recognize His Voice!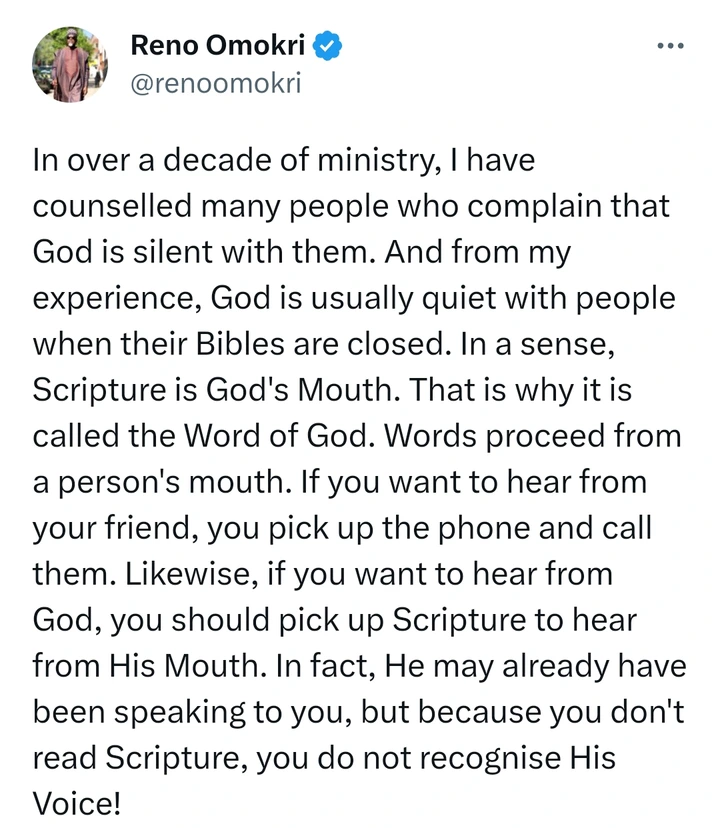 The idea of the social media influencer talking about this subject led to lots of reactions on his handle; below are some of the screenshot reactions to his statement.